An especially brutal series of 4 murders in Orange County began in 1980 through 1986.  Several more eerily similar killings occurred in three other California counties.  
ADA Debora Lloyd had served with the OCDA for 28 years, handling sexual assault and homicide cases, before taking charge of the fledging DNA unit.
Seven years into her retirement, ADA Lloyd was called back to apply her DNA expertise to track down the man dubbed the Golden State Killer.
On Wednesday, March 10 @ 6:00 pm, ADA Lloyd will join us via ZOOM to share that story.
Joining us also that evening will be sitting Orange County District Attorney, Todd Spitzer. who will introduce ADA Lloyd and Judge Rogan who will present a brief State of NJC.
Our Zoom Room will be available 30 minutes early @ 5:30.
1.0 MCLE Credit will be available to NOCBA members in good standing.
Certificates will be sent via email following the meeting.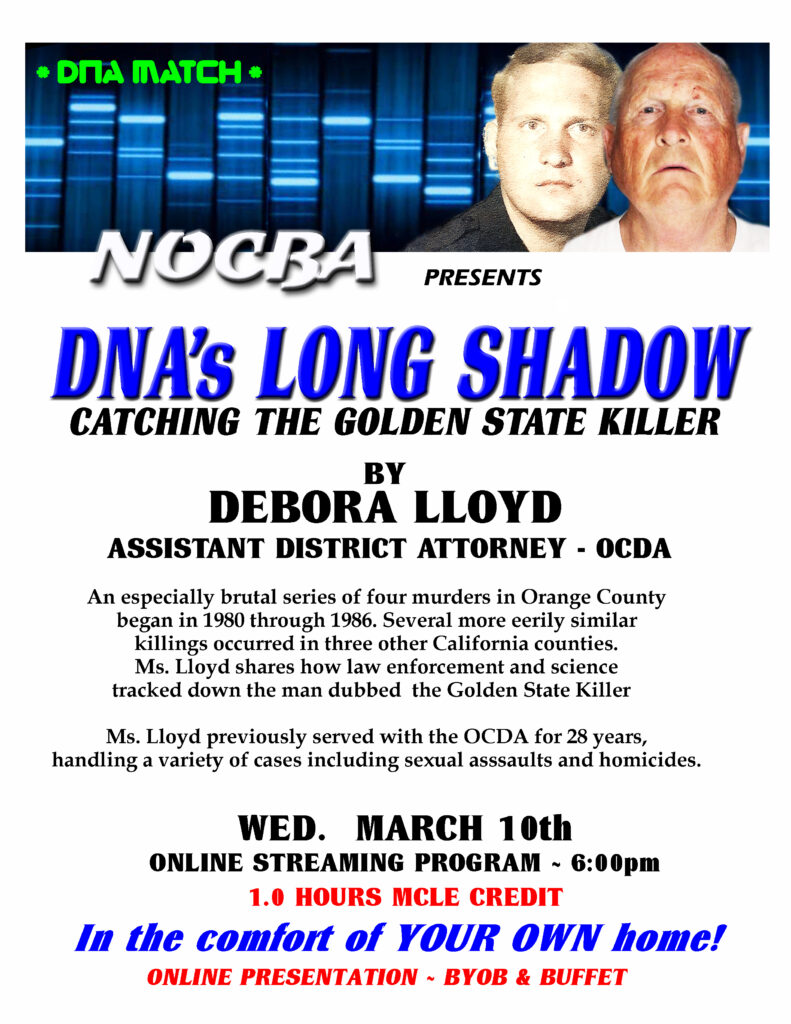 PERMANENT ZOOM LINK
https://us02web.zoom.us/j/8218903948?pwd=WVNiMllhUnljUTNIVG5MYkdETE9EUT09
Meeting ID: 821 890 3948
Passcode: NOCBA